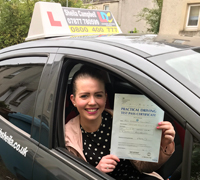 Deborah Cameron
Will miss my lessons
I was really nervous about starting my driving lessons as I didn't know anything about driving and lacked confidence, Shiela made me feel at ease and reassured me that I could do it! Sheila is really patient and talked me through everything I needed to know step by step. I really enjoyed my lessons with her and will miss them 😊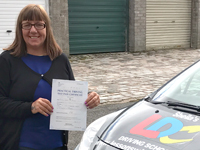 Elaine
Great Instructor
I sat my driving test about 30 years ago, failed and then gave up. I decided to try again and someone recommended Sheila from LDC, I am so glad they did. It was so much better this time and I looked forward to my lessons. Sheila is very patient and explains everything until u fully understand it. She is so easy to get on with and it was like going out in the car with a friend. I could not recommend Sheila more highly and I would say to anyone thinking of taking lessons to give her a call. Great instructor and lovely person.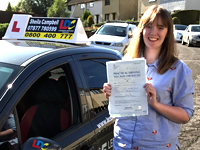 Shannon Kilday
First time pass
Whilst preparing for my driving test, I have had a lot of difficulty with managing my nerves and lack of confidence. Sheila has been extremely patient and encouraging throughout my time learning with her, enabling me to pass first time. Sheila is also very adaptable to different ways of learning making driving easier to understand. Having come from being terrified of driving to being more confident in my own judgment and ability, I would highly recommend Sheila as a driving instructor.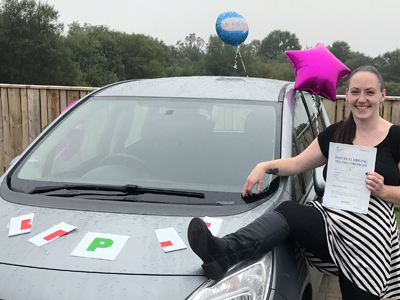 Lisa McGuire
First time pass
First time pass. The thought of driving panicked me so much my husband had to contact Shelia for me! I knew nothing about driving but that quickly changed. Shelia is by far the most patient and down to earth person I have ever met. She never spoke down or had anything negative to say. My confidence was knocked quite badly through a practice lesson and found my nerves difficult to control. Shelia quickly built it back up and moved me forward. Every lesson was fun, full of laughter and tailored to my needs. The LDC system is fantastic and easy to understand. Really going to miss our little drives, thank you so much for giving me back my freedom!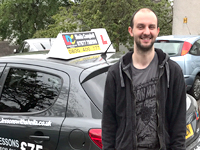 John Gill
Highly Recommend
I would highly recommend Sheila if you are planning to take driving lessons. She is very down to earth and makes you feel at ease. The learning materials that Sheila provides are very good too. I failed my 1st test but never felt any loss of confidence due to the excellent teachings from Sheila. My wife is possibly going to give driving a shot and we will definitely be going with Sheila for this too. Thanks for all your training Sheila. It's been great, had the wee man out to Hogganfield park and all sorts. Loving it. Cheers.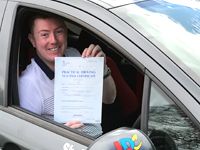 Johnathan Scullion
1st time pass
First time passed mature student I began my lessons with another instructor and after losing all confidence and will to drive and stopped and took a break. I was encouraged to return and booked through Shelia. I don't think I could have picked a better instructor for what I needed. Shelia identified my confidence was shaken and was quick to rebuild this with each lesson which helped me to enjoy driving again. Always available for texts, Shelia was always encouraging and full of positivity, never a negative or word or tone was used, whether in person or through phone communication. I do believe I wouldn't have passed first time without Shelia and I highly recommend her as a fantastic instructor and a great choice to do your driving lessons with.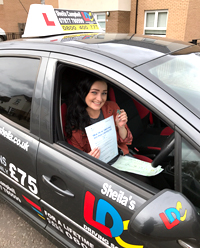 Becky Hall
Fantastic instructor and woman
I started lessons with Sheila after failing my driving test for the second time with another instructor. My confidence had been knocked and I was nervous about starting again after having a few months break. Sheila instantly made me feel at ease and she was very easy to get along with. Sheila allowed me to show her what I remembered and my driving skills before highlighting where work was required. Together we would plan my lessons and I feel that she offers a very person centered service. I began to enjoy and look forward to lessons again; the way it should be. Sheila was always on time (early in fact), always encouraging and was only ever a text away if I needed her. She offered me a lot of help for my theory and after only 15 hours of tuition I passed both my theory and driving test. I would highly recommend Sheila to anyone, she is a fantastic instructor and woman.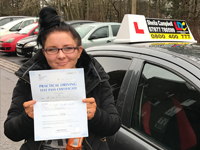 Emma
Great instructor
When I started lessons with Sheila I was so nervous ! But Sheila made me feel at ease , made me feel like I could do anything if I put my mind to it , she gave me confidence to strive, I was made to feel comfortable with Sheila while doing lessons , she was only a text away when I had any questions to ask aswell , Sheila accompanied me on my driving test and I passed ! Well I wouldn't have been able to do it without her , 5* instructor & lady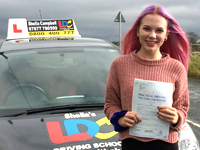 Sam Kidd
Best Instructor
Sheila is by far the nicest and best instructor I could imagine. When I started lessons, I hated the idea of driving and she made me motivated and now I really enjoy it. The teaching methods of LDC are brilliant, it makes learning easy and fun. Although I failed my first test, Sheila made sure my confidence didn't drop and I passed second time. Sheila goes the extra mile to make sure you fully understand everything she's teaching you and I'll miss my lessons with her.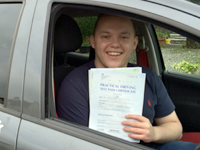 Kyle McLeod
Passed First Time
Sheila is a great driving instructor, extremely easy to get on with and one of the most patient people out there, couldn't have passed without her. Kyle McLeod.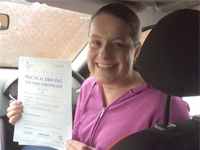 Lisa
I had tried learning to drive about 12 years ago and then gave up on it. I decided to give it another go and one of my friends recommended LDC and that was where I found Sheila. She was such a great instructor and always listened to my input so that I was getting what I needed out of my lessons. She helped me get my confidence back very quickly and encouraged me through every lesson. Even when I failed my first attempt she told me to just get another test booked straight away as she knew I was ready and this led me to pass my second attempt. I enjoyed all my lessons and now that I have passed will miss them.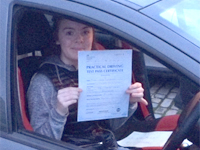 Lisa
First Time Pass
I completed my driving lessons within only 4 months, with a first time pass. This was all because of Sheila at LDC and her way of teaching each step of successful and safe driving. LDC was a fantastic driving course to go through as they also gave me further tools to improve my driving skills such as a LDC Workbook, with help and guides and a online website to practice your Theory etc. Sheila as a driving instructor was very encouraging and never spoke negatively. As a driving instructor, I thought she was really good because if I didn't understand anything she would always think of a better way to explain it to me. She was a fantastic instructor who I will miss chatting with! I would highly recommend to anyone to do their driving lessons with Sheila in the future. 10/10 !!!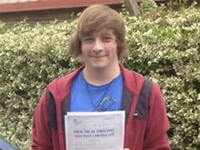 Joe
I really loved learning to drive with you and Alison you both are great teachers and really nice and easy to talk to, very supportive and. Helpful, thank you both so much for all the time spent teaching me this amazing skill, I definitely recommend the LDC driving school to any one who wants to learn to drive thank you so much.